No homeowner wants to hear that their house has a sinking foundation! One reason is that foundation fixes are sometimes the most expensive repair bill you might face. Two, weak foundations risk secondary damage, including wall cracks, roof leaks, and more.
The cost to fix a sinking foundation might run anywhere from $500 to $10,000 or more, while most homeowners might expect to pay around $4,000. Addressing extensive cracks, needed waterproofing, or bowing basement walls adds to these costs.
If you're curious about this wide range of foundation repair price points, keep reading! Knowing more about your repair options can help you better understand their expected costs. Reviewing foundation damage signs can also mean avoiding otherwise unnecessary costs.
What Is the Average Sinking Foundation Repair Cost?
As with any home repair project, your sinking foundation repair costs depend on your contractor's repair method. They will usually decide on that method based on the foundation's construction and damage extent. Only a foundation repair contractor near you can determine your property's condition and needed fixes.
In the meantime, note some common repair methods and average prices for residential foundation repair. Above all, remember that these are just national averages! Your costs will be higher or lower depending on local labor rates, your home's size, and the like.
Foundation crack repair
Minor cracks in basement walls or concrete slabs might cost $250 to $800 for repairs, on average. For concrete slabs, a contractor might need to pull up your home's flooring. Hiring a subcontractor to remove and then replace some flooring materials add to those costs!
Also, note that these prices vary according to a crack's size, including length and depth. A contractor might need to chip away some broken pieces around a crack to fill it completely. Added patching materials and labor then mean increased repair costs.
Foundation leak repair
Leak repair is more extensive and involved than crack repair. In many cases, a repair contractor might need to seal the entire foundation after patching cracks. Also, they might install a drainage system around the foundation, to direct moisture away. Along with needed waterproofing, foundation leak repair might run $2000 to $7000.
Foundation underpinning
Underpinning starts with excavations around damaged areas. Next, a contractor inserts specialty pins into the ground and attaches them to the damaged concrete. Then, they lift or raise those pins with specialty hydraulic equipment.
In most cases, a contractor might charge $1000 to $3000 per pin. In turn, your final costs depend on how many pins your property needs for proper fixes. Also, added services such as patching cracks or waterproofing increase those costs.
Bowing foundation repairs
Homeowners often have a love-hate relationship with basements! They offer ample storage, and you can finish the space to create a rec room or additional bedroom. However, basements are also famous for cracks, leaks, and water damage.
As basement walls absorb moisture from surrounding soil or that's trapped in the home, they might soften. However, remember that basement walls hold up a home's weight. As a result, those walls might eventually start to bow inward.
To address this issue, contractors might attach carbon fiber or other specialty straps to those walls. These straps help push the walls back to a level position. Also, they provide added support for the home's weight, keeping those walls in place.
Most contractors charge anywhere from $1000 to $4000 or more per strap. Consequently, your final costs depend on how many your contractor uses for needed repairs. Additionally, they might recommend basement waterproofing, to protect those fixes.
Pier and beam repairs
Pier and beam repairs might range anywhere from $700 to over $25,000 on average! Why so much discrepancy in pricing? First, a contractor might only need to patch existing materials or might need to replace piers and beams completely. Second, many contractors suggest waterproofing options for protecting that foundation after repairs.
Along with minor patching, a contractor might suggest shimming for your home's foundation. For this process, a contractor pounds wedge-shaped pieces between piers and beams. Those wedges help prop up the structure and keep it in position. A contractor might charge a few hundred dollars per shim.
However, your contractor might need to replace crumbling piers or broken beams outright. While new beams and piers might run thousands of dollars, they provide a sturdy foundation under your home. Consequently, they might be the last foundation repair cost you face over the lifetime of home ownership.
Full-scale foundation replacement
In extreme cases, your contractor might recommend full-scale foundation replacement. This process involves lifting a home to remove the existing foundation. Next, your contractor pours a new foundation in its place. As you might imagine, this project typically costs anywhere from $20,000 to over $100,000!
How Serious Is a Sinking Foundation?
When reviewing these costs, a homeowner might wonder, how serious is a sinking foundation? The short answer is that foundation damage is very serious, and homeowners should never avoid needed fixes. Check out some reasons why you'll want to contact a repair company at the first sign of foundation damage:
A home's framing, drywall, and other materials absorb moisture seeping in through foundation cracks. In turn, your home might soon suffer wood rot, framing cracks, water damaged and cracked drywall, and mold growth.
Never forget that a foundation holds up a home's weight. Once the foundation weakens, the home can shift. This pulls on solid materials including framing, flooring, and even the roof, risking damage.
A sinking home also pulls plumbing pipes out of place. Consequently, your home might soon suffer clogs, leaks, and other damage.
A poor-quality foundation affects property values. In some cases, your home might not pass an inspection, making it difficult to sell. Additionally, you might lose equity on your property rather than build that equity over the years.
Above all, remember that foundation issues often get more costly to address the longer you put them off! Cracks tend to grow and deepen while basement walls only bow more prominently over time. To keep repair costs as low as possible, schedule fixes at the first sign of damage.
Will My House Collapse With Foundation Issues?
Rarely does a home outright collapse on a weak foundation. In most cases, a home will start to shift to one side. This shifting and settling typically means cracks along interior and exterior surfaces and materials. Cracks risk water damage, mold, and other issues, as said.
Also, a sinking home pulls door and window frames out of alignment. Consequently, you might struggle to close and lock them properly and securely. Damaged subflooring can also mean cracked floorboards, which risk tripping hazards.
Additionally, note that bowing basement walls do risk collapsing! This exposes your home's interior to the elements and means costly repairs. As a result, it's best to schedule needed fixes quickly rather than assuming you can just "live with" a damaged foundation.
How Do You Know Your Foundation is Sinking?
A full-scale inspection is the best way to determine your property's condition from the foundation up! An inspector can check for signs of damage and note the soil's condition overall. They can determine if the home is sinking, needs minor foundation repair, or no repairs at all.
Between regular inspections, homeowners should be aware of cracks inside and outside the home. Stair-step cracks between bricks are especially dangerous as they might indicate shifting. Cracks large enough to slide a coin into also need immediate attention.
Also, homeowners also tend to think that mold, mildew, and musty odors are normal, especially for basements. This simply isn't true! A watertight home in good condition should be dry throughout. If you've ruled out plumbing leaks and other issues, call a foundation repair contractor. They can check if foundation cracks are to blame for water-related problems on your property or if you require foundation leveling.
How Do I Know If My House Has Structural Problems?
Surface cracks are a sure sign that your home is settling and sinking and might have structural problems. You might also notice bulging walls and popped drywall nails or separation between drywall sheets. Sagging or sloping floors and a sagging roof can also mean structural issues. Also, check for bulging or "rippling" shingles or tiles.
Additionally, property owners might check the soil around a house for signs of structural damage. For instance, soil pushing away from a home can mean settling and sinking. As the home settles, it pushes or displaces that soil.
Lastly, remember that surfaces around a home should be relatively level and even. If you notice gaps around windows or doors that get larger along one side or similar issues, this can signal structural problems. Artwork and shelves that never stay level can also indicate a sinking home. In these, call a foundation repair contractor and schedule an inspection.
Structurally Longevity of Houses
A house might last a century or more, depending on its construction, surrounding soil conditions, weather, and so on. However, some materials have shorter lifespans than others. For instance, you might need to start replacing wood framing pieces once they've reached 50 to 60 years. Termites, carpenter ants, and mold all shorten wood's lifespan.
Brick might last 50 to 60 years or more. After that time, mortar and other materials begin to break down so that cracks soon form. Also, consistent exposure to damp weather can soften brick prematurely, risking early damage.
Concrete should last 100 years or more if constructed properly. In turn, you don't want to assume that a home a few decades old will automatically have foundation issues! However, poor-quality installation and excess moisture in the soil mean premature breakdown. Moreover, the additional weight on a home can mean undue pressure on the concrete and early breakdown.
Lastly, note that various building materials have different lifespans depending on their manufacturer. For instance, high-quality carpeting might last 20 years before it wears down. On the other hand, low-grade carpets often show dirt and wear after only 5 years.
In the same way, some high-end laminate or vinyl floors might last 15, 20, or 25 years before they break down and degrade. Lower-quality vinyl or linoleum might only last a few years. Poor-quality installation, such as a contractor not using the right adhesives, can also shorten their lifespan.
Should You Buy a House With a Sinking Foundation?
There is no "right or wrong" answer about buying a house with any issues, including a sinking foundation. In fact, property flippers often specialize in homes needing extensive repairs! Flippers or developers invest in needed fixes and then sell that home for profit.
In turn, potential homebuyers should simply consider the damage extent, repair costs, and other vital details. Then, make an informed decision about that house! For instance, can you afford the repairs and is the home's price low enough to offset those costs? Does the home offer other features you need, such as a great location and excellent square footage?
On the other hand, never assume you can buy a damaged home and just ignore needed foundation repairs. Those cracks, leaks, shifting, and other issues only get worse, as said. They also risk secondary damage, such as mold and wood rot. These issues can mean a home that's simply not safe for you and your family.
Remember that a real estate agent or property appraiser can offer advice specific to any property. They can alert you to needed repairs and how that damage affects a home's value. You can then determine if you should consider buying a house with a sinking foundation.
Lafayette Foundation Repair & Waterproofing Pros is happy to provide you with this information about a sinking foundation. Hopefully, you found it useful! Also, if you're in the area, call our foundation repair contractors. We offer free inspections and all the foundation fixes your property needs to have done. We stand behind our work with a full-scale, written guarantee. For more information about foundation repairs and waterproofing, contact us today.
There are lots of things to do in West Lafayette, Indiana, as early as this weekend! If you're ready to make your plans, check out this quick list of 7 attractions you're sure to love. Also, be sure to call or check websites for updated information before heading out. A simple check ahead of time helps avoid unexpected disruptions to your plans.
This information is presented by our foundation repair contractors who complete foundation repair in West Lafayette IN.
1. West Lafayette Farmers Market
When you're ready for some fresh produce, baked goods, crafts, and more, head over to the West Lafayette Farmers Market. The market typically features some 50 vendors, all offering a variety of goods you're sure to love. The market is open every Wednesday from May through October. For more information, visit their website:
https://www.westlafayette.in.gov/our-city/farmers-market
2. Prophetstown State Park
With over 900 acres of prairie to explore, Prophetstown State Park offers a little something for everyone in the family! There is also an aquatic center with plenty of room for swimming and space for camping. To find out more or to reserve a pavilion or campsite, visit:
https://www.in.gov/dnr/state-parks/parks-lakes/prophetstown-state-park/
3. Happy Hollow Park
For more outdoor fun, visit Happy Hollow Park. This park includes a playground, trails to explore, volleyball courts, restrooms, and pavilions. There is even a dog park so you don't need to leave your four-legged friend at home. Visit the website for directions and other vital information:
https://www.westlafayette.in.gov/Home/Components/FacilityDirectory/FacilityDirectory/14/144
4. Elliott Hall of Music
Located in Purdue University, the Elliott Hall of Music offers a wide range of performances year-round. You can enjoy plays, concerts, and even stand-up comedy routines! For a current roster of events, visit:
https://www.purdue.edu/convocations/
5. The Columbian Park Zoo
The animal lovers in the family are sure to love the Columbian Park Zoo. The zoo offers a variety of species as well as educational programs for the kids and special events. However, note that the zoo does close seasonally! As such, you'll want to check out their website for current hours and admission prices before heading out:
6. Wolf Park
Take a quick trip to nearby Battle Ground and check out Wolf Park! This conservation site is an excellent chance to get to know more about these often misunderstood animals. The park offers various programs throughout the year including workshops and photography opportunities. Visit their website for current events and admission prices:
7. Mackey Complex
If you're a sports lover, be sure to keep current with everyone playing at Mackey Complex! The arena is host to several Purdue sports teams, including basketball, volleyball, and wrestling. For its current roster and to get tickets online, visit the website:
https://purduesports.com/facilities/mackey-arena/2
Lafayette Foundation Repair & Waterproofing Pros is glad to provide this information to our readers. Have you found some things to do in West Lafayette from this list? We certainly hope so! With so many area attractions, why worry about foundation damage on your property? Instead, call our West Lafayette foundation repair contractors. We'll schedule a FREE inspection and price estimate at your earliest convenience. To find out more or to get your property started on needed foundation fixes, contact us today!
Are you a property owner asking how long does foundation repair take? If so, you're not alone! In addition to its cost, property owners are often concerned with a repair's overall timeframe. Also, many people wonder if foundation repair is disruptive and if they can be on the property during those fixes.
Your foundation contractor is the best information source when it comes to your property and needed services. First, however, you might note some average timeframes for various foundation methods. You'll then know what to expect regarding your property's residential foundation repairs!
How Long Does Foundation Repair Take for Minor Cracks?
Minor crack and leak repair typically don't take more than a day. First, a contractor might chip away at minor cracks, even making them bigger so they will hold patching materials. Next, the contractor cleans the crack thoroughly.
Then, they insert injection ports, which push epoxy filler deep into the crack. The contractor then injects filler into the ports and other crack areas. Lastly, the repair contractor scrapes any excess epoxy and removes those ports.
Foundation leak repair might take a full day or two. First, a contractor creates excavations around the damaged foundation. Second, they usually apply a waterproof membrane around the foundation concrete. Then, they will usually replace weeping tiles or pipes surrounding the foundation.
These pipes collect moisture around the foundation and redirect it away from the structure. Damage to these pipes allows water to pool around the foundation, risking leaks. After replacing them, the contractor then fills in the excavations.
How Long Does Major Foundation Repair Take?
Severe foundation damage requires more extensive repairs. Extensive foundation methods, including leveling and underpinning, usually take 1-3 days to complete, depending on your property's size. Also, weather conditions can affect how long it takes to complete needed excavations.
First, a contractor might suggest slab jacking or leveling. Second, they might use leveling along with underpinning or piers. These repair methods ensure a strong foundation under your structure when used together.
To start slab jacking, a contractor starts by drilling under the foundation. Next, they inject slurries into those excavations. This material floats a structure back into position and then dries and hardens.
Underpinning uses steel pins injected into the ground next to or under the structure's foundation. These pins then attach to the foundation, keeping it level and firm. A contractor can also use concrete-poured piers in the same manner.
How Long Does Bowing Basement Wall Repair Take?
Contractors typically recommend carbon fiber straps for repairing bowing basement walls. They attach these straps across those walls, keeping cracks and bowing from worsening. In most cases, attaching straps to your property's basement walls only takes a day or two.
However, your repair contractor might also recommend added crack patching and waterproof coatings. These services ensure your basement walls stay strong after their repair.
How Do I Prepare for a Foundation Repair Project?
To prepare for foundation repair, ask your contractor if they'll need permits and how long they'll take! Some primary repair methods require permits which can take weeks to obtain. Also, note that excavation usually requires contractors to pull up landscaping features. Even though they typically replant these items, you might remove them if needed.
Also, ensure that contractors have full access to areas around your property as needed. For instance, you might keep cars out of the driveway if they need to bring excavators onto your property. Additionally, ensure they have full access to damaged basement walls as required. It's also vital that you keep children and pets away from their work for everyone's safety!
Other than providing basement access, property owners typically don't need to be home during foundation repair. However, your repair contractor can offer added advice on any prep work required before their work begins.
Is Fixing a Foundation Worth It?
The short answer is yes; foundation repair is always worth the cost! Consider some reasons why, and talk to your contractor if you still have questions about this process:
A weak foundation lets a structure settle and then sink, pulling on solid surfaces and building materials. As a result, your property will likely suffer severe cracks, buckled floors, and other issues.
This settling can also mean cracked chimney stacks, roof cracks and leaks, and even plumbing damage!
Moisture seeping into a structure through foundation cracks risks mold damage, mildewed carpeting, and framing rot. Also, expect some very unpleasant musty odors inside your structure.
Never finish a basement without first addressing needed repairs. Otherwise, you might soon notice water stains on building materials and rot and mold in the space.
Damaged foundations affect property values! Additionally, your home might not pass an inspection, making it difficult to sell.
The longer you ignore foundation damage, the worse it becomes. As a result, minor cracks might soon result in significant repair costs.
On the other hand, repairs avoids all these added risks. In addition, repairs and waterproofing keep a foundation strong and interior spaces dry. Above all, these needed services have protected property values over the years.
When You Need Foundation Repair Services
Interior wall and ceiling cracks are the most prominent and common signs of foundation damage. Also, door frames and window frames tend to come out of level so that doors and windows stick. You can also put a carpenter's level on the top of those frames to see if they're uneven.
Weak floorboards under the foot also might indicate foundation damage. Additionally, mold and excess moisture in interior rooms often mean foundation leaks. Above all, schedule regular foundation inspections. These can alert you to developing damage and the need for expert repairs.
Get in Touch with Our Company for Foundation Repairs
Lafayette Foundation Repair & Waterproofing Pros is happy to help answer your questions about the foundation repair process. Hopefully, you've found this information helpful and informative. Call our Lafayette foundation repair contractors if you're in the area and looking for expert foundation services. We'll schedule a FREE inspection and price quote for the foundation repair job. To find out more, contact us today.
Is it time for basement foundation repair for a Lafayette property? If so, don't put off that call! The longer you ignore leaks, cracks, sinking, and other damage, the higher your repair bills. Additionally, those leaks let moisture into a property's interior. That moisture risks mold, structure wood cracking and rot, and other damage.
However, some property owners put off needed repairs only because they don't know what to expect. They might assume that the process is disruptive and leaves their property in shambles! To ensure you make the best decisions for your structure, note some details about the basement repair process. Then, discuss any added concerns with a Lafayette foundation repair contractor as needed.
How do you know it's time for foundation repair in Lafayette?
The first step in effective basement foundation repair in Lafayette is a full inspection! Property owners are sometimes surprised to find a contractor wanting to inspect more than the basement itself. However, a full inspection means checking for signs of damage inside and outside your structure.
For example, a weak foundation might mean wall and ceiling cracks, or uneven door and window frames. A structure's roof also might crack or show signs of sagging and other damage. In turn, a skilled contractor should note all these issues around a property.
Additionally, a contractor might check for risks to a basement foundation and causes of damage. This often includes poor soil drainage or soil piling up against a foundation. He or she might also check for clogged gutters and water stains along outside walls. These all indicate excess moisture around a basement, which increases the risks for cracks and leaks.
Also, a foundation repair contractor might ask about issues you've noticed in your home or commercial structure. These might include damp floors, musty odors, mold along walls, and uneven surfaces. These all help your contractor determine the extent and location of foundation damage.
How does a contractor fix a basement foundation?
After determining the damage extent and where foundations need repairs, your contractor gets to work on those fixes! Typical basement foundation repairs might include any of the following:
Crack patching
Minor damage might only need crack patching. This process often involves applying patching materials either inside or outside the basement. Exterior crack patching is often more effective, closing those cracks and keeping the foundation protected.
Leak repair
Leak repair often includes crack patching and then checks for excess moisture around the foundation. A contractor might replace weeping tiles. These tiles are pipes installed around a foundation perimeter. These pipes trap excess moisture and direct it away from the structure.
When weeping tiles develop leaks or other damage, they don't work as effectively. In turn, moisture might stay trapped along a basement's exterior walls. Replacing or repairing those tiles then addresses leaks and keeps a basement protected.
Underpinning
A contractor might recommend underpinning for severely damaged basements. This process involves installing large pins alongside those exterior basement walls. Next, a contractor attaches the pins to the walls, which keep them in place. Underpinning also helps close gaps and cracks along a basement wall or floor.
Leveling or slab jacking
Foundation leveling or slab jacking is another process that repairs severely damaged basements. First, a contractor creates excavations around a sunken foundation. Second, he or she injects a specialty grout mixture into those excavations and under the foundation.
In some cases, a contractor lifts the foundation into place with specialty hydraulic equipment. Lastly, the grout dries and hardens, ensuring a foundation stays level. The contractor then replaces the excavations as needed.
Bowing basement wall repair
Weak basement walls often tend to bow inward. This issue needs immediate repair, as those walls risk collapsing. To address this issue, a contractor might apply specialty carbon fiber straps to those walls. These straps push the walls back into place and keep them in position.
Lastly, note that contractors might use more than one repair method for your property. For example, he or she might recommend underpinning and leveling, or crack patching and leak repair. Your contractor might also suggest how to avoid future foundation damage. This might include better property grading, a French drain installation, or ensuring gutters stay clear and clog-free!
Lafayette Foundation Repair & Waterproofing Pros is happy to provide this information about basement foundation repair in Lafayette. We hope you found it useful and informative! If you're in the market for expert fixes, call our Lafayette foundation repair contractors. We provide guaranteed repairs designed to last. To get your property started, use our contact form or just call us!
Are you a homeowner asking, can a slab foundation be fixed? This is a fair question for two reasons. One, it's vital that you keep your home's foundation in good condition. Two, homes cover their slab foundations almost completely, making access difficult.
The good news for homeowners is that contractors can typically fix slab foundations. Also, there are simple measures you can take to prevent damage in the first place! Check out some vital information about slab foundations and their overall upkeep. Then, discuss your property with a foundation repair contractor near you as needed.
Can you fix a slab foundation?
In most cases, a contractor will choose one of two foundation repair methods for a slab. Note a few differences between these methods when it comes to slab foundation repair. However, remember that your contractor is the best source of information when it comes to your property's needed repairs!
Slab jacking or mud jacking
Slab jacking or mud jacking helps lift a sunken, damaged foundation. During this process, a contractor first excavates around those damaged areas. Next, he or she runs pipes or hoses underneath the slab foundation. Then, your contractor pumps slurries into those excavated areas.
These slurries "float" a home back into a level and even position while closing cracks and leaks. Lastly, the slurries dry and harden and your contractor replaces those excavations. These slurries usually last several years if not indefinitely, keeping a home protected in that time.
Piers or cylinders
A contractor might use piers or cylinders to bolster a broken or cracked foundation. Sometimes called "piering," this process involves pushing or twisting steel pins deep into the ground. After insertion, specialty hydraulic equipment lifts a sunken structure back into position. Next, those piers attach to the foundation with specialty bolts and brackets.
In other cases, a contractor might pour concrete cylinders under the foundation rather than using pins or piers. Pouring concrete offers the advantage of being able to create a mixture as needed. These cylinders then offer added support to the foundation and keep the home level.
Is a cracked slab a big deal?
Never overlook needed foundation repair for your property! Cracked and weak foundations often risk secondary damage around a home, including:
Wall, ceiling, and roof cracks
Buckled floors and damaged subflooring
Wood rot along a home's framing
Sagging windows and doors that don't close or lock securely
Moisture that risks mold along walls and mildew underneath carpeting
Insect infestation
Damaged electrical wiring behind walls
Rusted appliances and damaged items in a home's basement
Additionally, note that foundation damage might lower property values! In turn, you can lose equity in your home rather than build it. Also, you might struggle to sell the home if you decide to move. In some cases, your house might not even pass a home buying inspection.
Lastly, note that foundation damage only gets worse the longer it's ignored. Consequently, it's vital that you address a cracked slab at the first sign of damage!
Are houses built on slabs bad?
Slab foundations, like any other design, offer advantages and disadvantages. First, note that slab foundations are typically cheaper to construct than basements or pier and beam designs. Second, contractors might pour a concrete slab in just one day, depending on its size and thickness.
Also, without space under a slab, there is little risk of trapped air affecting interior temperatures. In turn, you might pay less for heating and cooling in a home with a slab foundation. Additionally, without space under the slab, there is less risk of pests nesting and making their way into your home.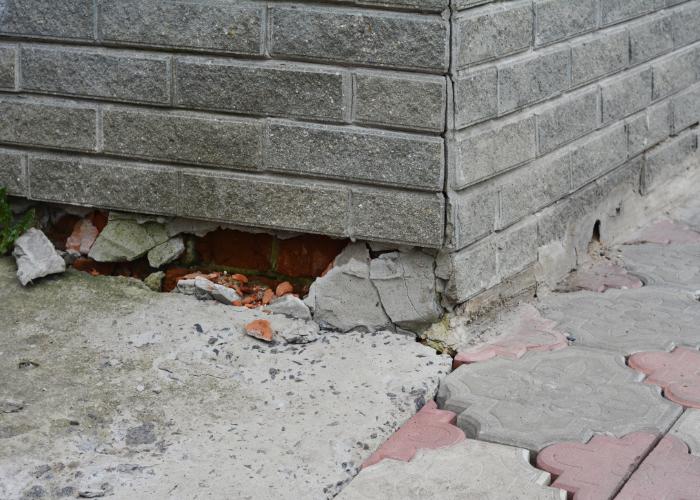 Moreover, some homeowners prefer a home with as few steps inside and out as possible! Homes constructed on slabs sit low to the ground and might have one or even no steps to the threshold. This makes slabs an excellent choice for anyone with health concerns or who wants to age safely in their home.
On the other hand, slab foundations don't offer space for plumbing and ductwork under the home. In turn, a contractor must bury plumbing pipes under the slab. Consequently, plumbing pipe repairs are often more costly on properties with slab foundations.
Additionally, a slab foundation means no room for storage in a basement or crawlspace. Some homeowners might also prefer the look of a home elevated on a basement or crawlspace. Lastly, note that a finished basement also increases a home's overall living space! Homeowners might even use a basement as an income apartment or separate living quarters.
How long do slab foundations last?
Properly installed and maintained concrete slabs can last up to 100 years or even more. However, as with any component of your home, the lifetime of a slab foundation depends on its overall quality. For instance, a contractor should compact soil properly before pouring a slab.
Also, proper soil grading is vital for ensuring that your concrete slab stays in good condition. Additionally, a homeowner must keep gutters clean and clog-free so that water doesn't collect around a slab. Above all, schedule repairs when needed so that cracks and other damage don't spread.
Cost to fix a slab foundation
On average, slab foundation repairs might cost from $3500 to $5500 or more. These prices vary according to the slab foundation size and damage extent. Also, a contractor might suggest adding waterproofing and soil grading to protect your foundation. While these services add to your costs, they ensure a foundation stays in good condition as long as possible.
Lafayette Foundation Repair & Waterproofing Pros is happy to help answer the question, can a slab foundation be fixed? Hopefully, you found this information useful and informative! If you need expert foundation fixes, call our Lafayette foundation repair contractors. We offer FREE consultations and inspections and guarantee our work to last. Additionally, we work on virtually every foundation design, including slabs, basements, and crawlspaces. To find out more or to schedule your no-cost inspection, give us a call today!
Foundation waterproofing for a Lafayette property is an excellent investment! However, many homeowners overlook this simple maintenance step for their home. One reason is that they want to avoid the expense and hassle of making that call. Two, they often don't realize the value of waterproofing and other protective measures for a foundation.
Before you go another year without waterproofing your property, check out 6 reasons why this work is worth the expense. You can then discuss your property's needs and options with a foundation repair contractor near you. In the end, you'll enjoy knowing that your house is in good condition from the ground up.
1. Waterproofing protects against future foundation damage
Foundation concrete, piers and beams, basement walls, and other materials absorb excess water around them. That moisture softens concrete and risks damaging piers and beams, and other foundation construction materials. Over time, this can lead to foundation cracks, leaks, spalling, and other costly damage.
Also, note that a damaged foundation allows a structure to sink and settle. Foundation settling risks wall and ceiling cracks, gaps around door and window frames, and other such issues. A sinking structure can also mean framing damage, damaged subflooring, and cracks that let in bothersome pests.
Consequently, foundation waterproofing in Lafayette protects against all that future damage. Avoiding those expensive repairs then offsets your foundation waterproofing costs! This is just one reason why waterproofing is a great choice for any property.
2. Foundation waterproofing in Lafayette protects your belongings
Moisture seeping into a structure through a foundation affects belongings and items near that seepage. For example, if you keep your washer and dryer in the basement, rust might soon form along those appliances! Even items stored in plastic or rubber containers might suffer damage due to excess foundation moisture.
This is especially vital to remember if you're thinking of finishing a basement space. In addition to protecting items in that space, waterproofing avoids damage to drywall, floor tiles, and other materials.
Also, a waterproofed basement means less risk of a damp, musty feeling, and unpleasant odors in the space. You can then increase usable space in your property without the worry of costly damage when you invest in waterproofing.
3. Protect against mold and mildew with foundation waterproofing!
Mold and mildew thrive in areas with excess mildew and especially those without sun and air exposure. In turn, dampness coming through a structure's foundation often risks mold growth behind walls. Additionally, mold and mildew can form underneath carpets and area rugs and along the backs of furniture!
Cleaning mold and mildew is often costly. Also, both can outright ruin drywall, subflooring, carpeting, and other such items. Consequently, investing in foundation waterproofing protects against this damage and its costly cleanup and repairs.
4. Waterproofing ensures a comfortable interior environment
Without waterproofing, moisture seeps through a structure's foundation. Next, interior rooms trap that added humidity. That excess moisture often means a cold, clammy interior in winter and a humid environment during the summer. In turn, interior rooms become uncomfortable, and your HVAC system might cycle on more often than usual.
Professional waterproofing keeps out that moisture, ensuring a comfortable interior space. Also, waterproofing reduces wear and tear on those appliances while keeping utility costs from spiking!
5. Avoid unsightly water stains with expert waterproofing!
Without waterproofing, your property might soon suffer water stains along interior walls and ceilings. Also, exposed foundation concrete might crumble or suffer spalling. These issues often mean a very unsightly, unattractive property, both inside and out! On the other hand, professional waterproofing helps avoid these unsightly stains and other damage.
6. Foundation waterproofing often increases property values
Your property's value is based on what prospective buyers might pay for that structure. In turn, maintenance tasks like foundation waterproofing can make your property more desirable and valuable to potential buyers.
Even if waterproofing doesn't necessarily increase a property's value, consider that foundation damage often lowers those values! Prospective buyers might avoid properties with a damaged foundation as well as issues such as mold and interior wall cracks. Consequently, waterproofing at least protects a property's value even if it doesn't necessarily increase that value.
Lafayette Foundation Repair & Waterproofing Pros is happy to provide this information about the benefits of foundation waterproofing in Lafayette. Hopefully you found it informative! If your property needs foundation fixes, call our experienced Lafayette foundation repair contractors. We offer FREE inspections and reliable repairs that last. To get your property started on the repairs and waterproofing it needs to have done, give us a call today.
The cost of leveling different types of houses varies. Slab foundation repair prices can range from $3,200 to less than $1,500 if only shims are needed. Of course, if substantial damage has occurred, the cost of leveling a house with a concrete slab can surpass $10,000. However, the cost of house leveling varies greatly between projects.
Due to decay, mildew, and other factors, new timber parts such as beams and joists are frequently necessary as part of the leveling procedure. Of course, you may only require the installation of new steel shims to level the floor above your foundation. In some circumstances, a drainage correction system may be necessary to fix your foundation. The average cost to level a house is $3,071 to $9,685.

Duration of House Leveling
A typical residential foundation repair takes two to three days. A job can take longer due to a variety of factors.
When it comes to releveling a house, how long does it take? Restoring the home to its former position should take no more than three to six hours. However, it is usually determined by the size of your home and the difficulty of the leveling project.
How much does it cost to level the foundation?
The cost of leveling or repairing a foundation is determined by the nature of the problem, the degree of the damage, and, in many cases, the foundation type. Even though the national average is $4,000, your issue could be considerably less or much more.
The average cost of establishing a foundation is between $ 3,071 and $9,685. Less involved projects could cost as little as $850, while more involved ones could cost as much as $14,000. The cost is solely to raise the house. It does not include the removal of the old foundation and the installation of a new one. The total cost of the procedure is between $ 25,000 and $100,000.
Raising a foundation is a severe repair that involves lifting a house, removing the old foundation, and replacing it with a new one. It is done when the house is still standing, but the supporting structure has been severely damaged.
How much does it cost to level a house on piers?
Repairing a pier and beam foundation is typically around $4,000 and $6,500. It depends on the size of your home. Of course, the cost would be significantly higher if you were repairing a huge house with a pier and beam foundation. Indeed, if it is severely damaged, the cost may well approach $10,000.
The Process of Leveling a Home
Installing pilings beneath existing piers to strengthen them, using rods or braces to reinforce damaged support stations and cure sagging floors, stabilizing the soil beneath the foundation with a chemical mixture, or a combination of these approaches are all options for house leveling.
House leveling is the process of restoring a home to the position it was in when it was first built. Slabs in new homes should be no more than 1.5 inches out of level. The American Concrete Institute developed this standard. The great majority of homeowners rarely notice small changes in foundation elevations. Foundations are repaired to a tolerable level by professionals.
A foundation is required for all structures. This foundation may sink, settle, crack, or heave with time. It could occur for a different kind of reason. Issues with the soil, too much moisture, or a foundation not built properly from the start are all common culprits.
One of the most vital repairs a home will ever require is house leveling or foundation repair. The foundation supports every pound of your home's weight. Houses, by their very nature, are fairly substantial. The foundation must be developed and erected correctly. Any issue, no matter how minor, can result in property damage and depreciation.
Types of Foundation Leveling
The procedure of leveling a house varies depending on the type of foundation. For each type of foundation, there are a variety of procedures for repairing and leveling the foundation. Depending on why the foundation needs to be repaired, several procedures are used. Whatever approach is chosen, the final result is the same: a level foundation, or more precisely, a repaired foundation.
Pier & Beam Foundation Leveling: Different tools are required for different scenarios. Installing steel or concrete pilings under crucial areas under the concrete perimeter beam helps repair and level a Pier & Beam Foundation. Shims are positioned on top of the interior pads or columns and alter the interior. Damaged or badly placed wood can sometimes cause movement. This type of damage is considered by Advanced Foundation Repair when doing repairs.
Concrete Slab Foundation Leveling: We have a variety of instruments to handle various challenges. Excavated areas around the house may install concrete piers, concrete pilings, or steel pilings. These fixes are sometimes confused with older methods such as mud jacking or slab jacking. Soil injections can be used to prevent or lessen the likelihood of soil swelling.
Advanced Foundation Repair invented the Pro-Lift system. Pro-lift has remained the most reliable foundation repair technology in Texas for nearly 25 years, with the fewest warranty repairs.
What happens when you level a house?
Lifting your house to make it level is what house leveling entails. It is done to help the foundation stay stable and strong. After the house has been leveled, foundation repair contractors may begin working on resolving the issues that warranted the foundation problems in the first place.
Verdict: Is a Leveling a Foundation Expensive
According to HomeAdvisor, the average cost to level a house is $3,071 to $9,685. A typical residential foundation repair takes two to three days. A job can take longer due to a variety of factors. Repairing a pier and beam foundation is typically between $4,000 and $6,500. 
Lastly, do not forget to seek the expertise of a professional as it is invaluable. Call our team at Lafayette Foundation Repair & Waterproofing for additional information on house foundation leveling.